This year will be
The One

that calls you forward
for a business and life that's
abundant, free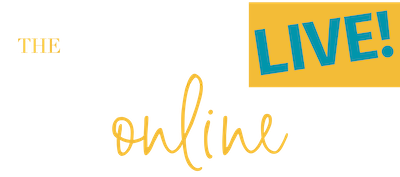 3-day transformational online experience with Suzy Ashworth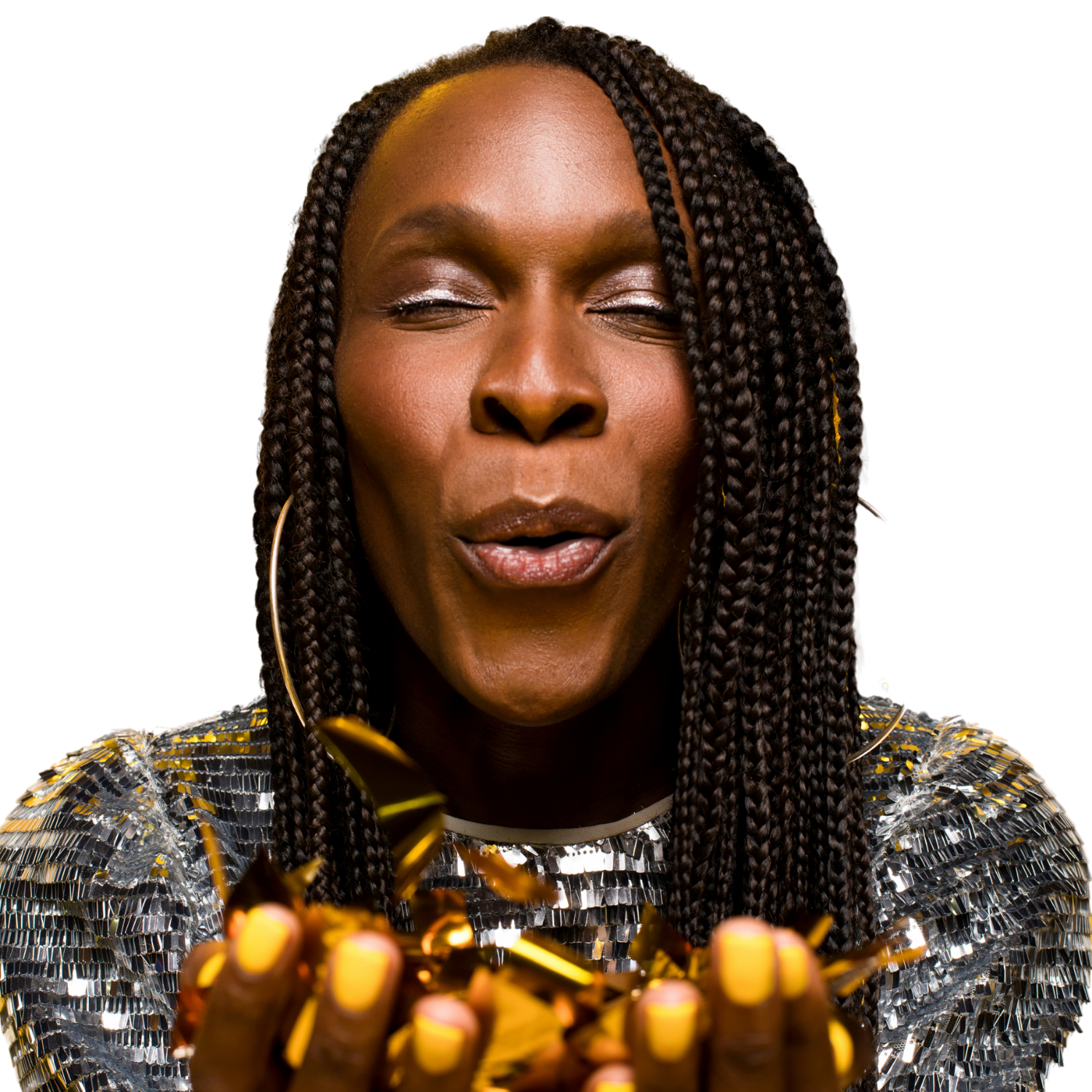 "The One LIVE has been the most surprising, impactful, powerful and transformational event I've ever attended"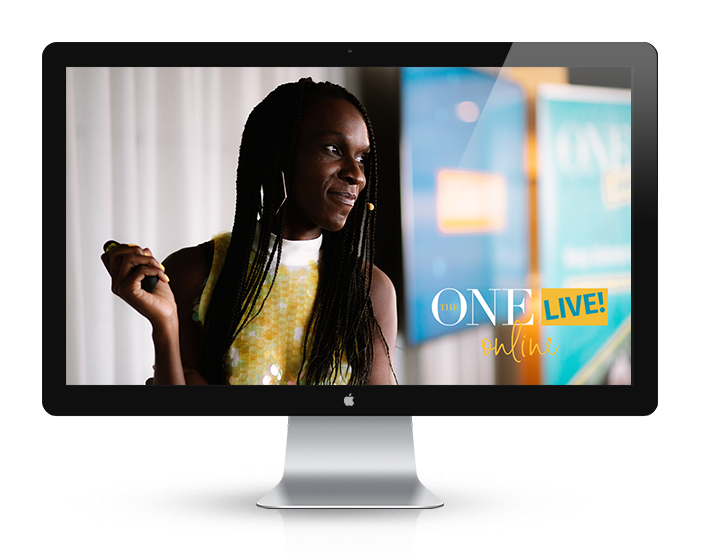 The One LIVE is a 3-day online experience that will give you the clarity, confidence and kick in the butt…
… to finally unleash your potential to create abundance and find freedom
(even in lockdown)
… spending 3 days with me and
100s
of successful women coaches, consultants and creators 
… giving yourself the time and freedom to reconnect and reset your mind, energy and business (after the shit show that was 2020)
… emerging from a deeply transformative and sensory experience with the mindset (and strategies) you need to become the woman and business owner you're meant to be
My promise to you is that The One LIVE will be unlike any boring online event you've experienced before.
Complete transformation

Radical freedom 

Effortless abundance 
I'm giving you the strategies and tools you need to experience freedom and abundance during the most challenging time in our lives.
I'll share the insights and lessons I learned from tripling my business to £1.52 Million in 2020.
(Yes. During the pandemic, I shattered the 7-figure mark.)
What I've done, you can do. 
I'm here to show you how.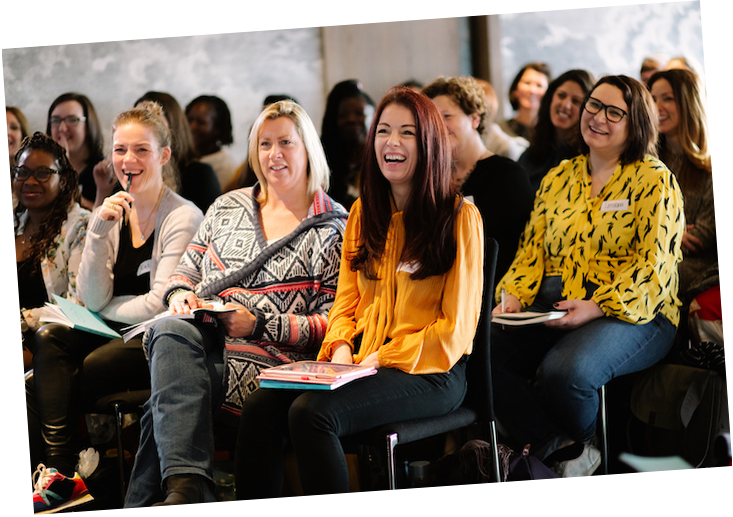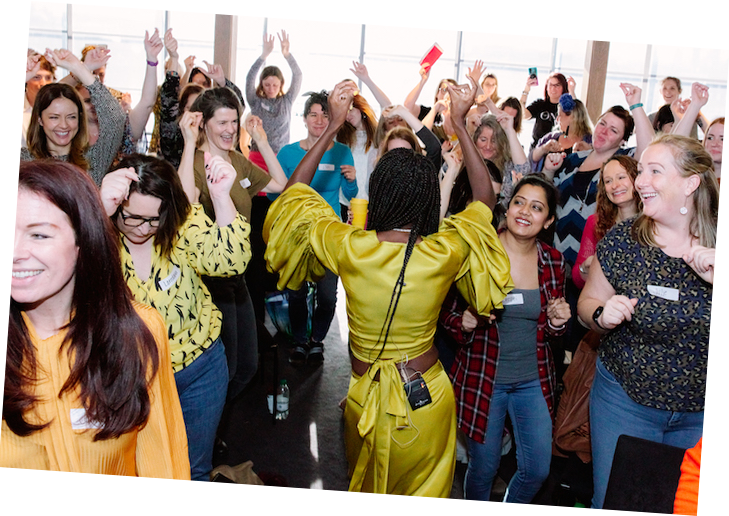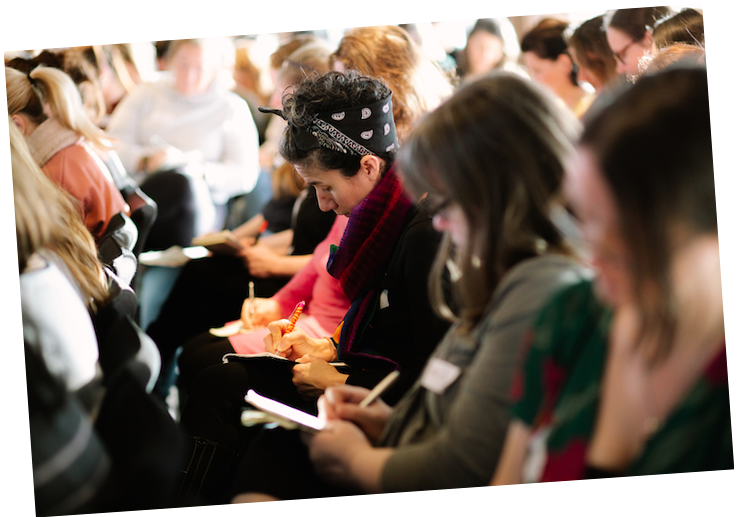 Join me January 22 – 24 2021
Tickets are £197 + VAT and seats are limited

Having SUCH an incredible experience glued to listening to the inspiration and magic of Suzy Ashworth, and meeting so many fabulous women in business the last two days, all equally as blown away by her knowledge, love and infectious energy
🌟💓🌈
This past weekend was amazing. Loved it. Sat in a room with 100 of some of the most successful women in business, and the things they are doing are truly amazing and worthwhile, and from the heart ❤ #suzyashworth #theonelive
What a weekend. There are no words for the amount of gratitude I have for Suzy Ashworth for being an utter show stopper miracle worker of a human being and all the other women who reflected their magic in each other this weekend. I never feel more alive than when I'm doing this work  #theonelive
Tickets £197 + VAT. Limited availability.
The One LIVE is a 3 day online experience for women coaches, consultants and creators.  
This experiential and transformative virtual event is for anyone who listens to The Limitless Life Experience podcast, has been through my programs or groups, and is ready to create the best year yet. 
The One LIVE will help you kickstart 2021 into a life of freedom and abundance. 
Most importantly, it's a gathering of ambitious women who are being called to a greater purpose. And ready to create change in their lives and communities.
In a word: boring.
This isn't another online summit. 
It's not a 3-day zoom meeting that leaves you drained and covered in crisps crumbs.
It'll be a completely new and unique online experience.
Yes, we'll talk business strategies and tactics.
And then we'll activitate with live performance, music, meditation and magic.
My goal is that you'll emerge from the event feeling like you just walked out of Kill Bill, wondering WTF just happened
(and ready to take on 2021).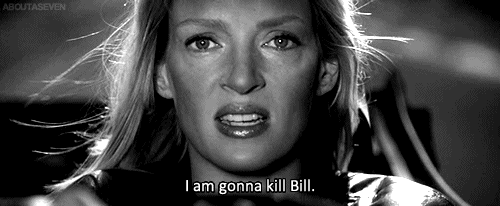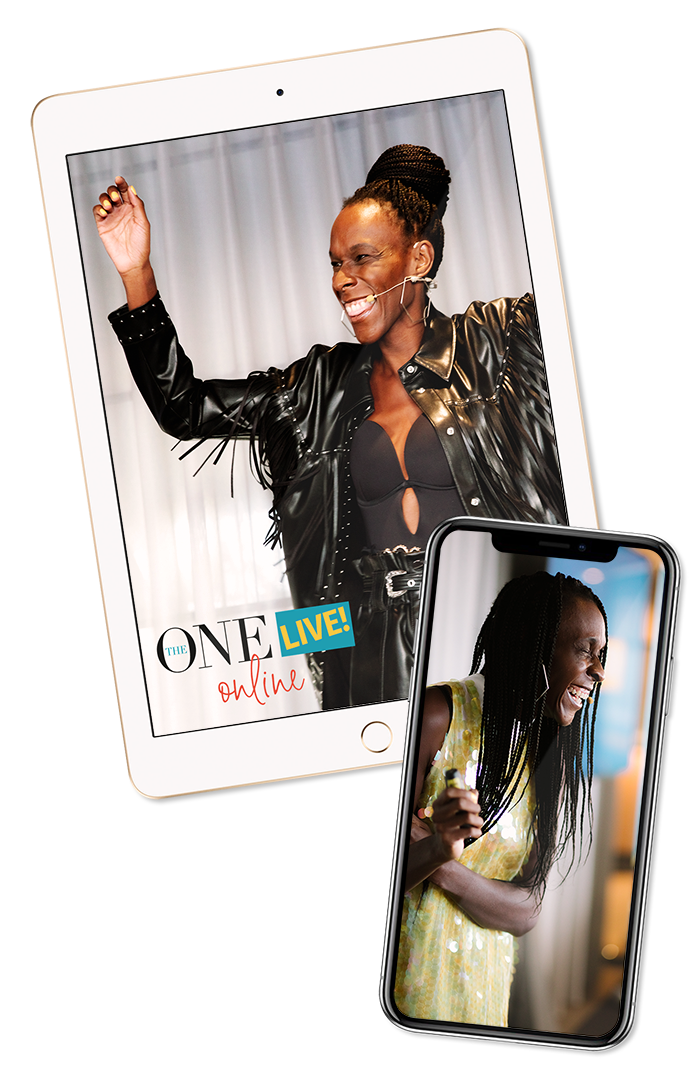 After 3 days of pure business, marketing and mindset magic, you'll leave with:

Unrivaled clarity on what your next steps need to be

Strategies to take your life and business to your next level of impact

Mindset magic that will transform your money and any blocks that keep you stuck

A clear plan of action on how to make 2021 your best year yet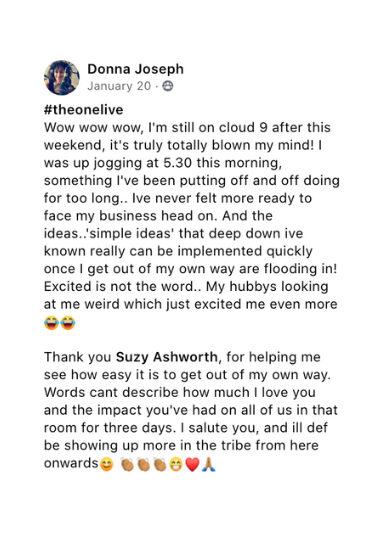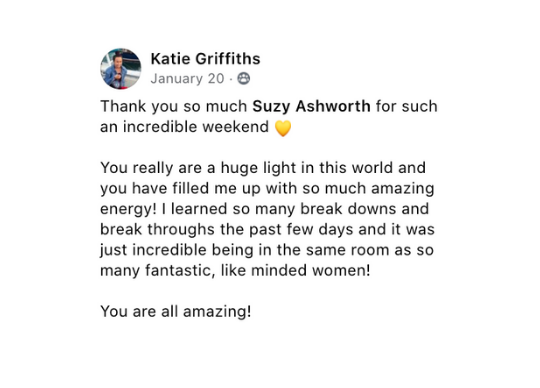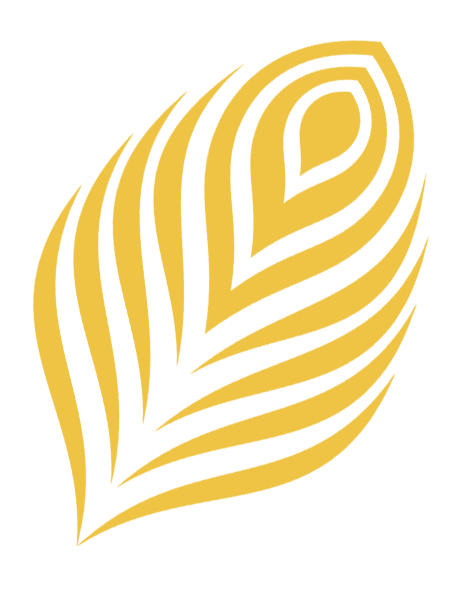 Join The One LIVE
January 22 – 24 2021
Tickets £197 + VAT. Limited availability.
Hello, you gorgeous human being
…and if you're a soul centred leader ready to truly step into what is possible for you in life and business, then you are absolutely in the right place.
I'm a mum of three, seven figure serial entrepreneur, Hay House author, international keynote speaker, quantum transformation and embodiment coach and believer in miracles.
My superpower is working with science, strategies and spirit to help female entrepreneurs like you create six figure breakthroughs in your business FAST, so that you can create a powerful, positive difference in the world.
My mission is to activate 1,000,000 women into limitless living and divine self expression by 2023 through mastering the laws of the Universe and tapping into the infinite magic that lies within them.
…and how am I equipped to deliver on this immense goal, I hear you ask?
Well, the proof's in the pudding – and I'm already well on my way, as I've helped thousands of women across the world create the lives of their dreams through revolutionising their approach to business.
But more importantly – I'm a living embodiment of everything I preach and teach.
Yes – I know how to do it, because I've done it for myself.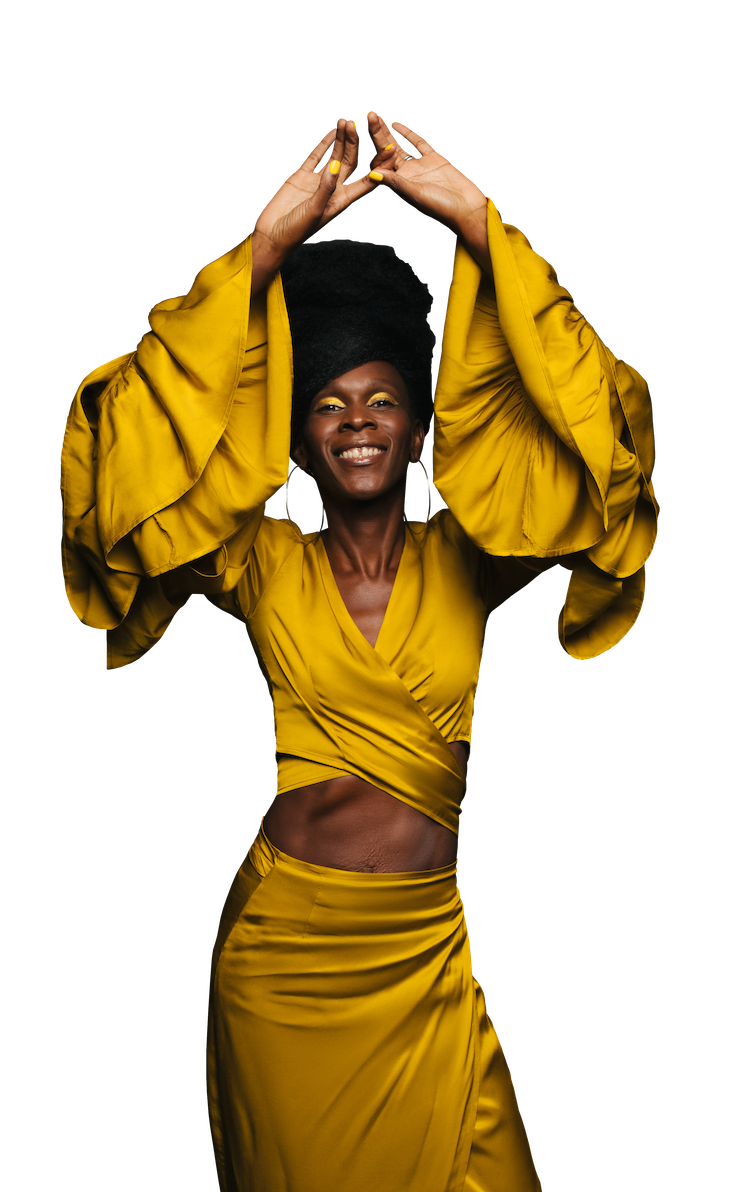 I genuinely believe that this is the time to have conscious female leaders stepping up.
If anything, 2020 has shown us the need for strong female leadership. This is what is needed for our world right now.
You are doing yourself and your people a disservice by not stepping up and embracing the success and abundance that is available to you.
How big are you prepared to go?
You can spend the next 365 days faffing around.
Or you can say
"I'm ready. I'm going all in."
My lovely, I have a final question for you:
How much longer you gonna wait?
2021 is calling all of us to serve at a higher level and create more magic in the world.
Tickets £197 + VAT. Limited availability.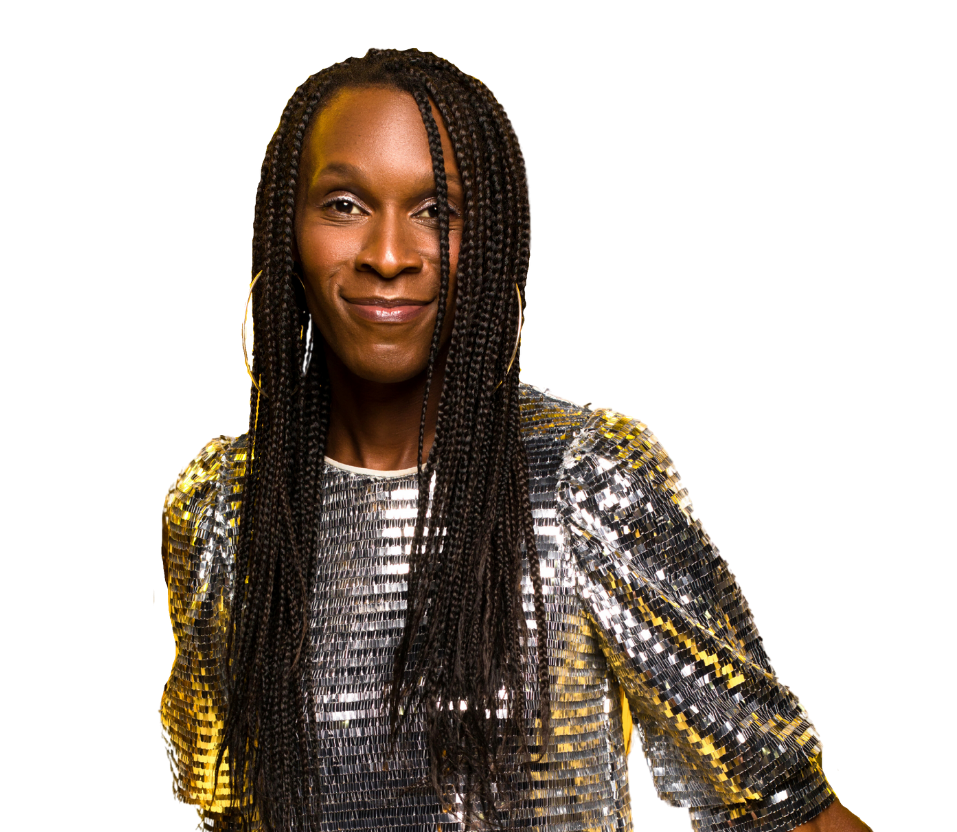 *How Bring-a-Bestie works:
To qualify for the free ticket, your +1 musn't already be part of the FAM Tribe or Quantum Success Hub.
To prevent no-shows, a £50 + VAT deposit is placed on your guest's ticket. You will be given the link to pay for this via the button above after answering the questions.
As long as your bestie shows up each day, your deposit will be fully refunded. 
COPYRIGHT © 2020 · ALL RIGHTS RESERVED · SUZY ASHWORTH