What would TOTAL FREEDOM look like, feel like and mean to you?
Travelling around the world with your family, whilst being able to travel and live in the lifestyle of your choosing, instead of needing to opt for the cheapest airbnb?
Feeling free to communicate your message as you evolve, without fear, because you are so connected to your vision and your mission that you are literally UNSHAKEABLE?
Creating a legacy business that is genuinely changing lives AND paying into overflow?
This is what is available to you in 2020.
THIS is

You have been in a business for a period of time already.
You know you want to make a BIG impact in the world.
You know you want to develop your spiritual connection.
You know you want to make BIG money.
Your first financial goal is consistent 10K months – and then the sky is the limit.
The problem is you've already worked hard to get to where you are, and sometimes it feels like it's working and other times… mmm… not so much…
What you definitely know is that you don't have the time, the space or the inclination to work twice as hard as what you are doing right now.
The next level of success for you is FREEDOM.
You know me so well
You know that carrying on doing what you have done is not the path that is going to get you to where you want to go with a sense of ease and grace.
''WHAT GOT YOU HERE WILL NOT GET YOU THERE…''
This is why I created
THE FREEDOM EXPERIENCE.


My name is Suzy Ashworth and I am about to enter my sixth year of business.
I help women like you create six- and multiple-six-figure businesses through crafting unique, personal growth plans designed to create space for more freedom, more life, more leading and more laughing.
This is what life and business should be about, right?
I'm a mum of three children who are 8 (soon to be 9), 7 and 3.
I am originally from the UK but for the last year I have been living in Mexico.
I have been 'fortunate' to have had all of my biggest months in business in 2019, exceeding £35K a month on a regular basis, all the way through to £75K. In December, I took 3 weeks off to visit Costa Rica with my husband and then see family in England with my hubby and children, and I still received in excess of £45K in revenue.
I share this with you not to boast, but to say that after working REALLY hard in my business for years, I have finally cracked the FREEDOM CODES – the codes that allow you to really make the difference you want to in the world and get paid for it, without sacrificing the people you love the most in the world AND whilst getting to actually LIVE life.
For me this is FREEDOM.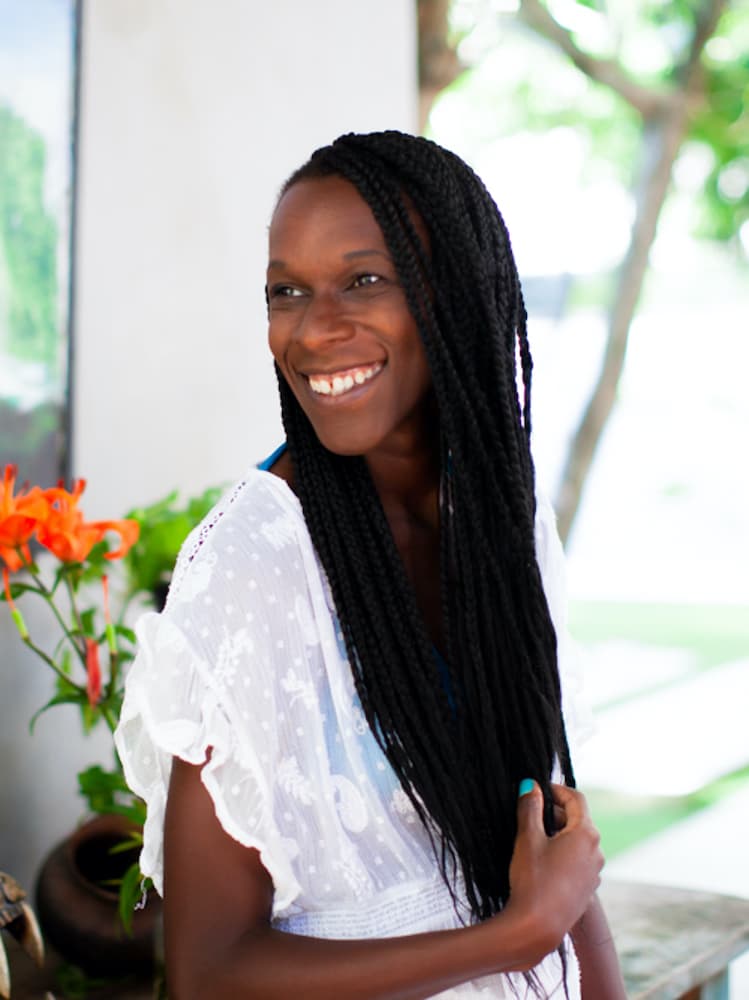 Alongside being a mum, I'm an international speaker, a Hay House author, a business growth strategist and a multiple-six-figure serial entrepreneur. I am a marketing geek and spiritual warrior whose one mission in life is to support you as you step into your own limitlessness through helping you create an abundance of personal and professional freedom in your life and business, so that you can do incredible things in the world.We go into business because we want to be our own bosses and masters of our destinies and we still end up spending way too much time and energy doing the things we think we should be doing, to get results that aren't fully lighting us up.
Sound familiar?
Things changed for me when:
I fully embraced what I desired;
I worked on my mindset as much as I worked on my marketing, and;
I implemented like a mofo.
So, yes, the financial results were there – mid-multiple-six-figure years and hundreds of clients – but what has been the biggest game-changer wasn't the money, the book deals or the speaking gigs – it has been the sense of FREEDOM I feel. The freedom to choose.
And just how much more comfortable I feel in my own skin creating the business AND life of my dreams.
Are you ready to do the same?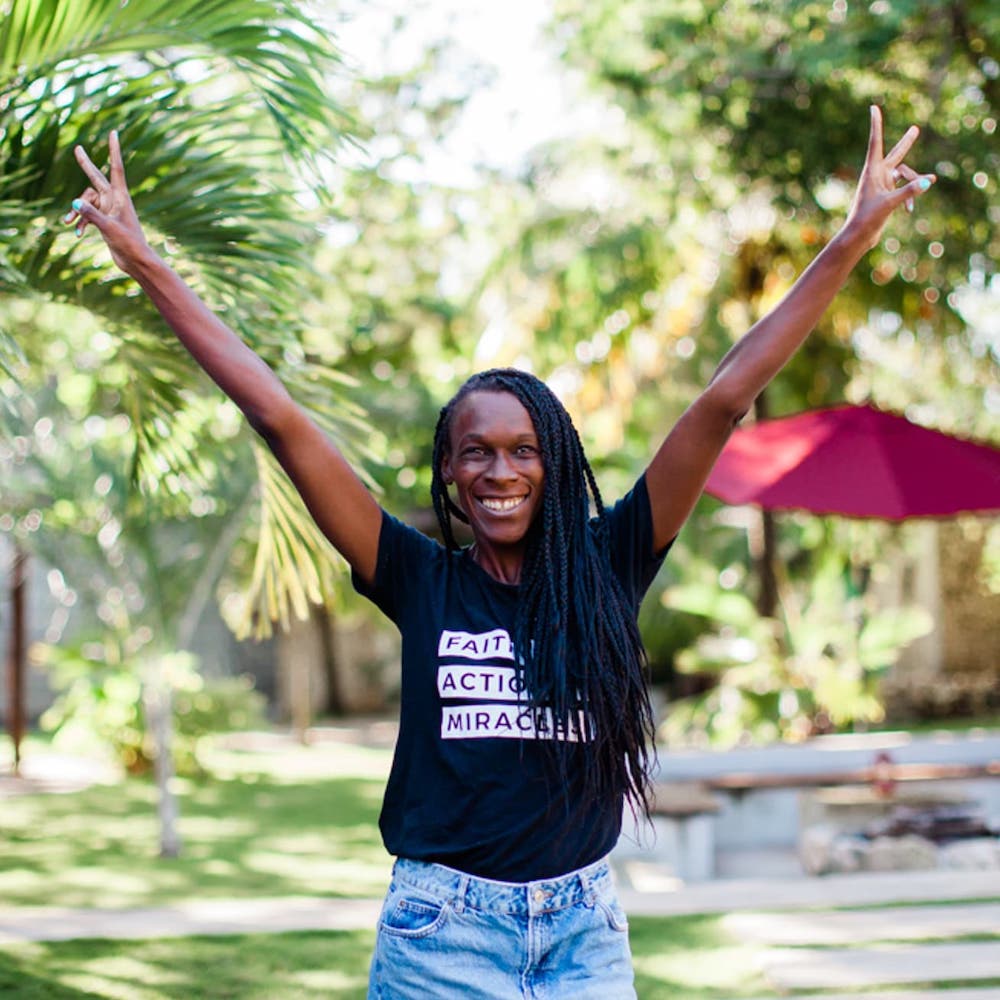 Introducing
THE FREEDOM EXPERIENCE
A deep, transformational experience, where we go way beyond surface-level success to create a life and business that helps you embody personal and professional financial and spiritual FREEDOM in abundance.
What you receive over the next 12 months
Also, every other month, you will receive an exclusive training on one of the 7 Freedom Codes™ that guide you through the exacts codes, strategies and formulas I have personally used to create my own Freedom Experience.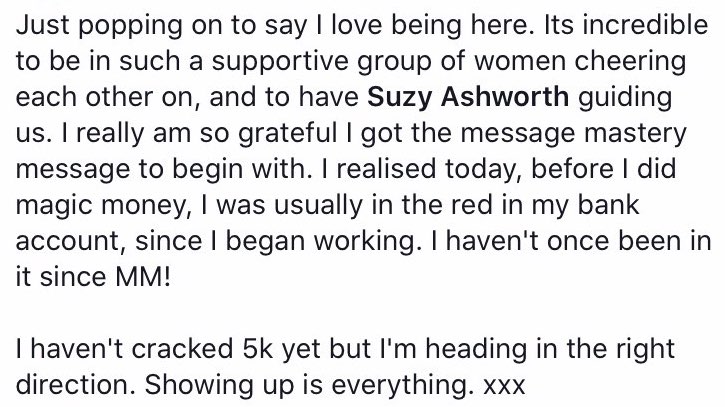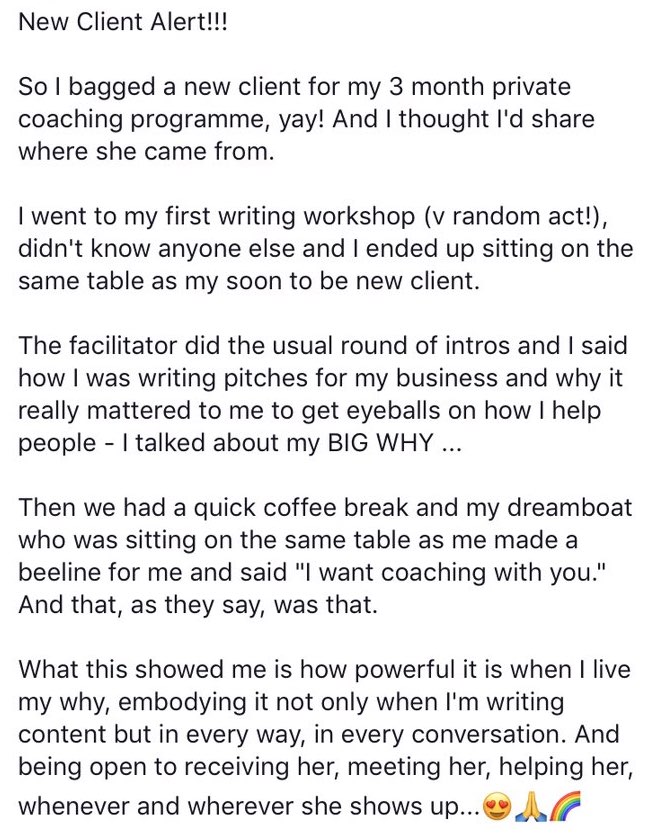 Flourish Code System – (S + C) – L = ready to receive
The one word that people have repeatedly been using to describe my life over the last 12 months is flourishing. Using the above formula, I have been able to navigate the most difficult of times (because, yes, embracing freedom sometimes involves moving through where you have been holding yourself back, which isn't always comfortable) to flourish.
Reclame + Radiate – Heart Alignment and timeline collapse
Learn how to use Heart (re)Alignment tools and collapse timelines so you can reclaim the parts of you that you need to thrive and accelerate the speed at which you are able to call your desires into your life.
Ease re-codification – refinement of the art of allowing
The art of allowing is not just a tool – it's a lifestyle choice, and it goes against 99% of what you have learned in school and life to date when it comes to creating the life and business that you want. We are about to switch this on its head by activating your Ease Codes in the quantum field and right here in the 3D. Ready for things to get a whole lot easier?
Energetics – energy activations for mind, body and soul
Energy is everything and right now (literally) your job is to harness it on a moment-by-moment basis in order to consciously create your freedom business and lifestyle. When you master this, you change the game.
Deepening – intuition + collective consciousness
Clearing your channel is the fastest way to deepen your connection to your intuition, alongside tuning in to the 'collective'. If you are someone who has in the past resonated with 'I'm the only one who can do this', or find yourself second-guessing your decisions or not knowing what the best next step is, the combination of this deepening with coaching and community is going to leave you feeling more confident and supported than ever.
Overflow – The Abundance Pyramid™
Ooh, finally ready to pay off your credit card AND book an incredible holiday?! Want to invest in this support AND do the house renovations you have been speaking about since forever?! Welcome to the Abundance Pyramid. Some of this process isn't sexy – it's downright practical, let's-get-shizzle-sorted-once-and-for-all, but guess what? It works AND it leaves you primed and ready to receive MORE.
Miracles – The Triple M Blueprint for miracles on demand
Miracles are an everyday part of my life. Magic is expected and I want that for you too. This is what the Triple M Blueprint outlines for you and this is FUN.
'BUT WAIT! IS THIS JUST ALL SPIRITUAL STUFF?! I WANT TO GROW MY BUSINESS TOO!'
Don't worry, Mary, I got you covered.
"I have been coaching since 2009. I had ONE ☝🏽 CLIENT that entire year.
In 2015 I started my coaching business, I had ONE ☝🏽 CLIENT that entire year.
In 2016 I committed to doing things differently. I enrolled in a coaching certification course, believing that if I had the certification I would be able to call myself a coach. I signed TWO ✌🏽clients that year both towards the end of the year.
In 2017, the pattern continued, I sought out more certifications to prove what I already knew about coaching and then I made a shift because I wasn't growing my business the way I wanted to.
I spent 2018 trying strategy, methods, webinars, freebies, frameworks, templates, swipe files…you name it I found myself frustrated but I raised my prices and found 2 people willing to pay.
I felt like I was never going to figure out the magic key, secret sauce, simple formula or how to get that damn boulder up the hill!
In early 2019 (can we really call it 10 years of coaching???) I enrolled in a program to learn about funnels to keep leads coming and I immediately had 2 clients sign up to work with me (they didn't come from the funnel ironically) and I had one person find me through the funnel. My biggest month ever in coaching!
I had one client agree to a payment plan but she ended up not paying the full amount. Because something in my heart said focus on her words and how she's expressing herself, I agreed to keep her on as a probono and learn from her as she learned from me.
Then crickets…I went 5 months with nothing but a drop in my confidence and a freshly typed resume "just in case", but I kept one hand on that boulder because I didn't come this far to deny what I know in my heart.
As if all things were aligning with my new focus, I found myself drawn to Suzy.
I knew that communication and being seen were important but I had been holding on to a story that what I think about sharing is too deep for what I think people want to hear. I also had the story in my head that I don't want to be annoying sharing my message too often let alone 2-3x a day.
My strategy call was just centered around those two beliefs and the freedom and permission to let them go….
I firmly made the decision that I was going to focus on ONE thing.
I stopped allowing my attention to be grabbed every which way and I made a pact with myself that this program was all I would be learning from for the next 90 days.
No e-books, no webinars, no opt-ins.
Only ONE thing….digest every lesson in this space to speak up.
Today I signed my THIRD!!! 1:1 client since I first signed up with Message Mastery and then The One.
THIRD client in 2 months. 🤯
My goal for the year was to impact the lives of 10 women through my 1:1 coaching….I am only 3 away from that number whereas not even a month ago I was 6 away!
I can't tell you what words made it click for me but when I shared in this group about showing up on my personal platforms and saying whatever I wanted as though I were walking around my house the way I wanted, an energy shifted that I know has signed that permission slip to speak up.
From my heart, I wish all of you a glimpse of your potential throughout our time together.
It does take work and it may take years (hopefully not 10 for you) but it really doesn't have to be hard unless you are committed to that way of looking at it."
OTHER KEY AREAS WE WILL EXPLORE
Alongside over 30 masterclasses about everything from branding to PR, the things that have really made a difference to the level of freedom I have in my business have been the following – so The Freedom Experience makes sure you have support in these key areas too.
Team (hiring)
Everything you need to know about how to hire like a boss (when you need to be taking this step) and who you should be bringing onto your dream team so that you don't drive yourself insane with possibly the hardest thing you have to do in your business.
Strategy
I don't believe in a one-size-fits-all strategy, so you'll receive personalised one-to-one support from me during three quarters of the year.
Scaling and business models
Scaling your business is never as simple as the gurus tell you it's going to be, so we'll look at how you can grow your business with ease and grace so that you have the time to spend outside of your business on the things and people that you love.
Idea generation
Knowing when you need an idea and when to freeze that baby is crucial for building your business and creating peak experiences for clients so they come back to work with you again and again.
Life and business execution plans
The Freedom Experience is a life and business mentorship. In order to get the most out of that, you have to consciously design and see the steps that are required to allow the results you want to create to manifest. We work through this together.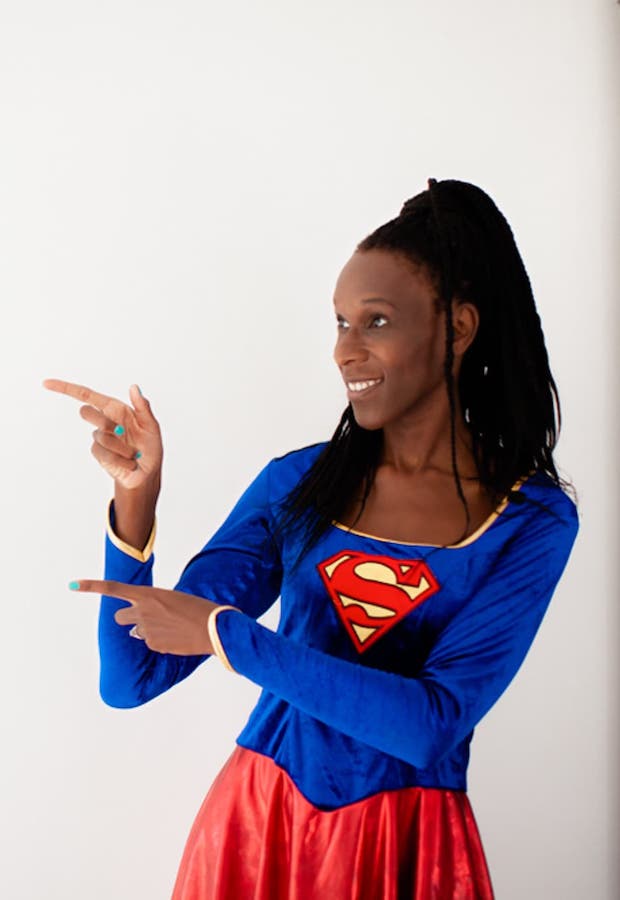 "I made £1000 today. More than I have made in a month in my coaching business. I'm attracting clients who pay in full, upfront, and who are beautiful and delightful and speak to me at a level that makes my heart sing. I am honoured to be able to hold space for these women and the gratitude I feel for doing this work is priceless. I feel shivers when I work with these clients. I'm so grateful for this process and this group. Wouldn't be anywhere near this level of alignment with the energy of money, of serving, or asking for the sale. God and goddess bless you all my beloveds. Have a great weekend."
"So that's me booked out for Xmas 🙂 🙂 Also my dreamy dreamboat clients back in touch looking for a frame! And a client I was waiting on for weeks is taking a full digital gallery. And! I have 4 sales/ips coming up this week. When I get this all locked down it will be my biggest week in business so far!!! Xxx"
"Professionally, my biggest income month in December, and the most beautiful new year retreat with opportunities for future work with DBCs.
Personally, feeling back in my mother fluffing groove and ready to BRING IT for 2020!"
"An absolute dream of a human has just booked onto my new year retreat, which means we are just two spaces away from being fully booked.
I'm sharing because at the beginning of The One I was sure that we would barely book enough people to cover the costs, we are now full with beautiful souls, and in line to make a radiant profit."
"Woohoo!!! First masterclass done – 65 in the email group, 37 registered for webinar, 22 live on call and most of them stayed on the full hour and have had 2 people pay for the course already!!!!!!
Soooooo pumped right now!!!"
WHAT YOU GET
VALUE
3 quarterly 1-2-1 private mentoring calls with Suzy
£3,000
Fortnightly group coaching calls
£10,000
1 kick-off 2-day in-person intensive in London
£4,000
4-day in-person intensive in Valencia
£7,500
Access to Message Mastery
£997
Access to Sales School with Soul
£2,000
Access to Magic Money
£247
Over 30 masterclass trainings
£3,000
Bi-monthly subconscious transformation
sessions with Laura Husson
£4,000
Private Facebook Group
Invaluable!
Total value of the programme
Pay in full £20,000 + VAT
REGULAR PRICE
£15,000 + VAT
OR
£4,000 deposit + 12 x £1,335 + VAT
Want more of me? Go VIP!
Receive 12 monthly 1-2-1 calls, including 3 x 2-hour planning sessions
Pay in full £25,000 + VAT
EARLY BIRD PRICE
£15,000 + VAT
OR
£4,000 + VAT deposit and 12 x £1,250 + VAT
Double your investment or get your money back at the end of the 12 months!!
To qualify, you must attend 90% of the calls AND implement the strategies shared.
– Frequently Asked Questions –
Is this good for people who are brand new to business?
If you are not brand new to business and have earned at least £3,000 a month consistently for a few months and transitioning to something new and would like to see if this is a good fit, please do reach out.
Is this a mastermind?
Not in a traditional sense. Whilst you will benefit from the group input within the Facebook group and from the in-person intensives, you will receive coaching from me.
When will the calls take place?
The group calls will be on Tuesday evenings at 8pm GMT (these are subject to change when I'm travelling; you will always be provided with a schedule with any changes; the timetable will be given with at least 2 weeks' notice).
Is travel and accommodation provided on the business intensives?
No, you will need to arrange your own accommodation and travel to the venues.