Lessons from the Mastermind + Retreat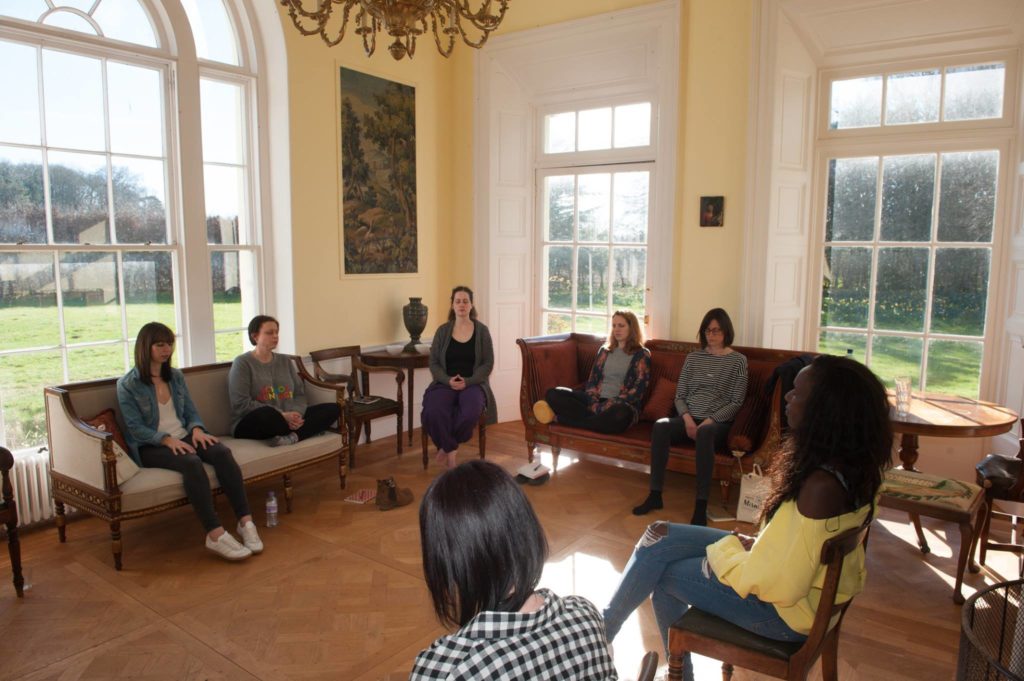 Hey Beauty,
So I'm so happy to be able to let you know that I did it! Or should I say WE did it.
I know that my video from the previous week touched a lot of you, to see me so outwardly shitting my pants about the task ahead of me. But writing this almost a week later, I could not be more proud of how the weekend played out.
Whilst it was my job to hold the space for my guests, of course, I took the time to do a little bit of reflection every evening and this week has been one for allowing myself the time and space to ease back into real life. And yes, it's taken four days, but hell was it worth it? Absobloodylutely.
So what can I share with you from the last mastermind and retreat experience? Lots. I can't share everything so I am going to cherry pick the key learnings:
1. We all need to take time and space away from our usual environment to think and allow divine downloads and inspiration to come in
One of the comments that really stuck with me, came from one of my masterminders who all of a sudden realised she had access to a venue, that would allow her time away from the family to properly focus on the things she wants to create for her business. She said, "I can't believe I haven't thought about it before, it's been there all along." Whilst we can create small pockets of time with journaling and meditate on a daily basis, it's still difficult to switch off from everyone else and deeply tune into what YOU need. Leaving your home, going on retreat, allows you to do this. TAKE PROPER TIME AWAY FOR YOU.
2. Discomfort is a pre-requisite for growth
Most of us run the hell away from discomfort. Deflect, defend, attack, retreat (and not in a good way). I invite you to embrace discomfort. From discomfort comes learning and when you learn you grow.
3. Connection is Queen
Whether you want to move your business online or you're all about touching the flesh in real life, without connection you have nothing. And to really connect you have to be prepared to do you. Get vulnerable. Show people who you are. When people see what you are about behind the defences, the façade, you give them permission to let their guard down too. You inspire and you liberate. If there is any part of you that wants to change things, wants to make a difference, wants people to like you, then you have to connect.
4. There is no magical destination where you wake up one day and find out that everything's sorted.
You will never wake up one day and magically feel enlightened. Like all the shit has gone and you now have everything sorted. That magical destination does not exist. As soon as we get to where we think we want to go, our natural very human nature is to desire more growth. Whenever we desire growth we have to identify where the limits are and bust through them. It never ends and that can be as fun as you want it to be.
5. Fear underlies everything
Whether it is fear of the unknown or a desire to remain within the life we feel most safe in. Regardless of how you want to dress it up, if there is any part of you that is not completely happy or any part of you that yearns for more … the only thing that is holding you back is you.
6. We are fucking limitless powerful individuals
Most of us have forgotten that we're made out of stardust and that means we really can achieve anything we want and desire. Surround yourself with people who not only see the potential in you but also see and own the potential in themselves. Seeing people who are bold and brave enough to shine in the way the Universe intended is really fucking inspiring.
7. I'm really good at what I do
And on that note – confidence comes from taking action. The first in-person mindset and marketing day I held really changed the trajectory of my life. I loved it and I know that the participants of the day really got a huge amount from it and I immediately knew I wanted to do more! And now I have completed my first retreat where I got to share, teach and hold the space for women to explore their truth, acknowledge their blocks, shed their skin and open their hearts to massive, massive change. That's the space I created and I did it very well.
8. First comes mindset and then comes the business
One of the things that blew me away about the retreat was how many business ideas and commitments came through for women who spent the majority of the time talking about what was holding them back on a personal level. As light bulbs went on, old baggage was released and a sense of 'why not me?' filled people's minds and bodies at a cellular level. In the immediate few days after the retreat came an explosion of business declarations that made the hairs on the back of my arms stand up and the tears begin to flow.
9. Yoga rocks
Whilst yoga will not be for everyone, trying something that encourages presence, that needs you to be 'in the room' and that allows you to connect with yourself and your body in a way that you are unable to do on a casual 20 minute walk is mind-blowing refreshing. Move beyond your comfort zone physically and see how quickly you are able to stretch your boundaries mentally.
10. Faith + Action = Miracles is really a thing
It works ladies. Faith means having a belief in yourself that you are worthy, you are capable, you are deserving.
Action means doing the mindset work to help clear negative energy and let go of baggage AND taking practical, inspired action towards your goal. Every. Single. Day.
When you do this miracle happen. Large and small. Every. Single. Day.
Faith + Action = Miracles