How I started and scaled my multiple 6 figure business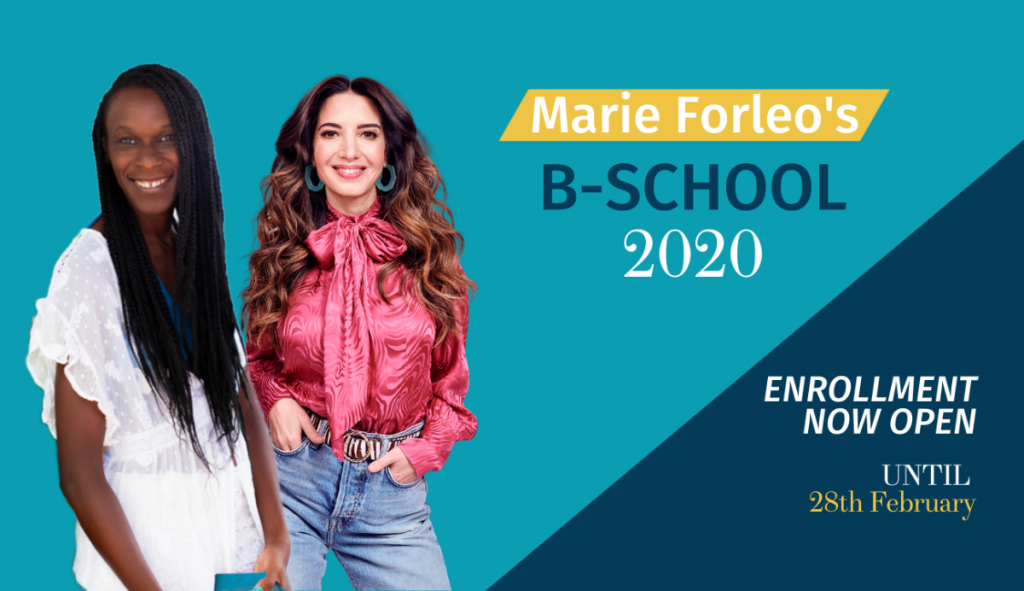 Yes – in today's blog post, I'm sharing some of my secrets with you
People always ask me how I got started. What was the first (or best) course I took, to learn all the 'tricks' of the trade.
The answer? B-School. 
To be totally transparent, B-School changed my life that much, I became an affiliate to help Marie make it known to as many people as possible.
BUT – the program isn't for everyone, which is why I'm bringing you this blog post today – to share my story in the hopes that it'll help you make your mind up whether B-School is suitable for you.
If you're interested in checking out B-School click this link here.
My story
It all started back in 2014.
I had just finished my maternity leave and was wondering what to do with myself work-wise.
I knew I didn't want to go back to my day job, and so I retrained as a hypnotherapist with the aim of going self employed.

I began building my business offline, at first, but it wasn't flexible enough for my family life, and, truth be told? It wasn't profitable enough for it either.
I stressed about bills all the freaking time, and was worried about waste – even the smallest scraps of food being left over on my children's dinner plates – because I never knew when the next deposit into my bank account would come, and where it would come from.
I felt like I was lying through my teeth to everyone – including the in laws, especially the in laws – when they would ask how everything was going. With a fake smile I'd say 'fine', and cross my fingers and toes that it wasn't written all over my face, or that my husband had given the game away.
I knew I needed to do things differently, but didn't know what to change or how.
But then I heard about people doing things DIGITALLY, and I decided to invest in the online marketing course that would change my whole life:
B-School.

Holding my breath, I put the £2K course on my husband and I's joint credit card.
Oh, and I didn't tell him. Oops.
Was I scared?
SO scared.
But within 3 weeks all my fears around not making my money back (our money back) disappeared.
I had the idea for the business that changed my life – a video based hypnobirthing program called the Calm Birth School – and within 6 months I had launched it.
That course turned into a self published book, that was later picked up by Hay House.
Last year I sold the company to one of the teachers who loved it even more than I did, and am now a multiple six figure earner, well on my way to earning seven figures.
I get to speak on stages all around the world and this year have been invited to Necker island to work with Richard Branson. 
Oh, and guess who with?
All the people I looked up to before B-School.
I live in Mexico with my three children after retiring my husband from his Assistant head teacher's job in the UK (if I wasn't forgiven for my $2k credit card purchase I am now!) and have taught thousands how to master their mindset and message so that they can build their own businesses too.

B-School was for me, but, like I said, it isn't for everyone.
Keep reading to see if it is or isn't for you.
B-School isn't for you if…
You're looking for a quick fix
B-School is about long-term strategies, not short-term tactics. Sure Marie updates it each and every round with marketing methods that are trending, but the foundations of the program are those that never go out of style. After going through the curriculum four times in a row now (yes really) what I love most is that whilst parameters change, the principles stay the same. THAT'S how you know that you're building on firm foundations. You might 'redecorate' your business from time-to-time, but never will you have to bulldoze it and rebuild it from the ground up.
You're a lone wolf
The B-School content is incredible, but one of the biggest benefits is actually the COMMUNITY. I know many people who didn't make it to the end of module 1, but found friends (and business buddies) for life in the Facebook group that accompanies the curriculum. B-School is one of the only programs I myself have been through end to end, but it wouldn't have been HALF as valuable as it was, had I not made the most of the community.
You want 121 coaching
This is where I think there's a gap in B-School – there's sooo much incredible information BUT if you're looking for a personalised program that's completely customised to you and your wants and needs, then this one isn't for you.
HOWEVER if you're serious about building a business and are willing and able to put the work in, are find friends who well and truly get it and are more than happy to do group coaching instead of 121 to keep costs low, then I have something to share with you…

Some B-School bonuses from yours truly!
Those that sign up via my affiliate link will get the following…
Message Mastery

– through which you'll learn how to master your message so you can communicate how you help people and book more ideal clients (worth £497)

Mindset Mastery Audio series

– to mentally prepare yourself for success (worth £497)

Magic Money

– to rewrite your money story and identify the biggest blocks that are getting in the way of the bank balance you want and need (worth £250)

Access to the FAM Tribe

– a smaller, more intimate community for personalised support tailored to you and your business (PRICELESS)
Oh and in case you missed the memo…

B-School is an 8-week online program for big hearted individuals who want to build a business that makes both an impact and an income.

There are six core Modules in the B-School curriculum, and one Module is released per week. Each Module contains 4-6 individual video lessons plus corresponding Fun Sheets to help you practice the theory by applying it directly to your business.
Here's the Module-by-Module breakdown:
Module 1: Clarify your profit plan
Module 2: Create a website that converts
Module 3: Design your content and communication plan
Module 4: Nurture and grow your email list
Module 5: Deliver products and services that customers love
Module 6: Timeless marketing for modern entrepreneurs
AND in addition to the six core learning Modules, you'll also get a comprehensive library of advanced trainings and masterclasses from Marie to develop additional skills for growing your heart based business.
From me, you will get that bundle of bonuses, don't forget.
These will be drip fed so that you don't feel frazzled ever – and will be released in a way that complements what you're working on in B-School.
The bonuses have been designed with your progress in mind – they will help you get results more quickly than easily that if you were to be doing B-School without them! ??
You will receive Mindset Mastery the first week you complete B-School 

6 weeks later you will receive Magic Money

And Message Mastery will be given 1 week after that
So tell me – what's your story?
Are you ready to build a business that makes a difference and goes the distance?
Any idea who you want to help and how you want to help them?
Let me know in the comments below, and be sure to CLICK THIS LINK HERE to sign up.