How to "beat" the Facebook algorithm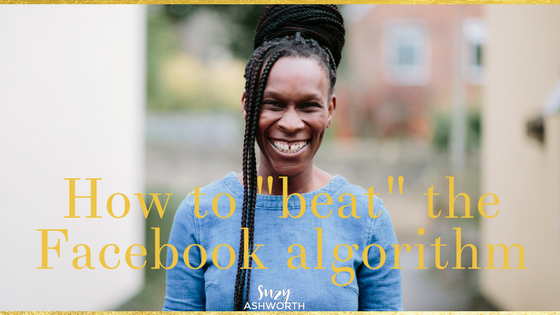 Over the past few months there's been quite an uproar in the online business world about updates Facebook has made to their algorithm because of the way it will impact entrepreneurs.
Recently, one of my lovely Baby Business School-ers asked me how to get around these changes, so I thought I'd go live and share my thoughts with you all… because there's really no need to panic. If you get your mindset right, Facebook can still be an incredibly powerful way to market your business.
Watch the replay here >>
To catch these conversations LIVE, make sure you're following along here.
Or here's the scannable version >>
Jumping ship from Facebook to any other platform is a shortsighted move.
It's naive to believe that you'll never have to "pay to play". That's the way social media marketing is going… but that doesn't mean you have to be spending thousands. If you combine spending a few pounds a week with a handful of organic reach strategies, you can get some amazing results.
Whether you're focusing on free or paid for tactics, remember the three C's: Content, Consistency and Community.
Quality CONTENT is a must, but that kind of goes without saying.
The CONSISTENCY of showing up regularly helps you work with the algorithm, rather than against it. Once a week is no longer enough.
Focus on COMMUNITY and engagement is what will extend your reach.
My signature (paid for) Facebook strategy
Have no fear! When I say "paid for", I don't mean you need to shell out hundreds of pounds a week on ads. I'm talking about spending £2 per day, 5 days a week. That means that, if you set up your custom audiences properly, you could get 200 really targeted, ideal clients seeing your stuff, for just £40 a month.
I go into the specifics of how to set all of this up in the video, so make sure to give it a watch.
Facebook tips… straight from the horse's mouth!
Your content needs to be as relevant as humanly possible.
Hashtags should be used sparingly (so don't auto-share all of your hashtag-heavy Instagram posts).
Join existing conversations – it helps boost those community vibes.
Your content needs to be credible. How does Facebook know if you're creating credible content? Because it will get liked and shared, that's how. Invite engagement. Share your opinion. Ask questions. Go live and encourage viewers to interact.
Let's talk more about Facebook Live…
Live video is still Facebook's baby. They love it. Which means they will always prioritise your live video in the feed.
But like I said above, the "best" and most credible content is the stuff people engage with, so how can you guarantee that people will catch you while you're live?
Do what I do. Tell people in advance. Pop up a Facebook post saying what time you'll be going live. Email your list. Share it in an Instagram story. Connect with all your different audiences and show them how they can join you live… and why they should bother. Make it enticing!
You can treat your live shows more like webinars, and offer freebies to go along with them. Pack them with value and build your email list at the time – it's win/win/win for you!
The surprisingly obvious thing so many people forget to do…
Ask for engagement! Get creative with your calls-to-action.
Ask people to react in a certain way if they think one thing, a different way if they think another.
Ask them to drop an emoji or GIF in the comments.
Ask fun and simple questions that are easy for them to respond to.
A few more tactics for "beating" this pesky Facebook algorithm malarkey:
Collaborate. Connect with entrepreneurs who work in a complimentary field. It could be as simple as giving them a shout out on your Facebook page. You could interview them, run a joint live…
Businesses are built on relationships. Yours is no different.
Take note of your Insights (Facebook analytics) and pin your most popular post or broadcast of the week to the top of your page. It's a really great way to get a bit of extra engagement.
Switch up your profile and cover photos regularly. And make sure your face is there somewhere – no more using your logo as a profile pic!
Post authentic stories about you. Share your vision, your mission, what pisses you off… all of that is content GOLD.
Facebook, if done the right way, with the right mindset and intention, can really help your business get seen and heard.
If you'd like to get even more light shone on your biz, join my 5 day visibility challenge here.